Rain, Rain, Go Away: 4 Corgi Raincoats to Save the Day
Last Updated on December 1, 2023 by May Jones
Rain, rain, go away, come again another day…said no corgi ever! These little furballs love a good romp in the rain, but as their human, it's important to keep them dry and comfy. That's where corgi raincoats come in! A good raincoat will keep your pup warm, dry, and happy during even the heaviest downpour.
But with so many options out there, how do you choose the best one for your corgi? Don't worry, I've got you covered (pun intended). In this article, we'll go over the top raincoats for corgis, so you can make an informed decision and keep your furry friend protected from the elements.
✨ Top 4 Best Raincoats for Corgis ✨
We've scoured the internet and spoken to other corgi parents to bring you the top 5 best raincoats for your furry friend. Ready? Let's dig right in.
#1 Yellow Zip Up Dog Raincoat by Ellie
✅ Water-resistant with a double-layered design
✅ Features multiple buttoned pockets and removable hood
✅ Quality inspected for material and durability
Check Price on Amazon
The Yellow Zip Up Dog Raincoat by Ellie features a double-layered design with a zip and additional buttons, making it easy to put on and adjust to your corgi's body. This raincoat is completely water-resistant, ensuring your furry friend stays safe and dry in all weather conditions.
It also has multiple buttoned pockets for easy storage of small items, a removable hood, and a small opening on the upper back for harness users. Plus, it has been quality inspected by a reputable third party for quality assurance, so you can rest assured that there is no compromise on material and quality.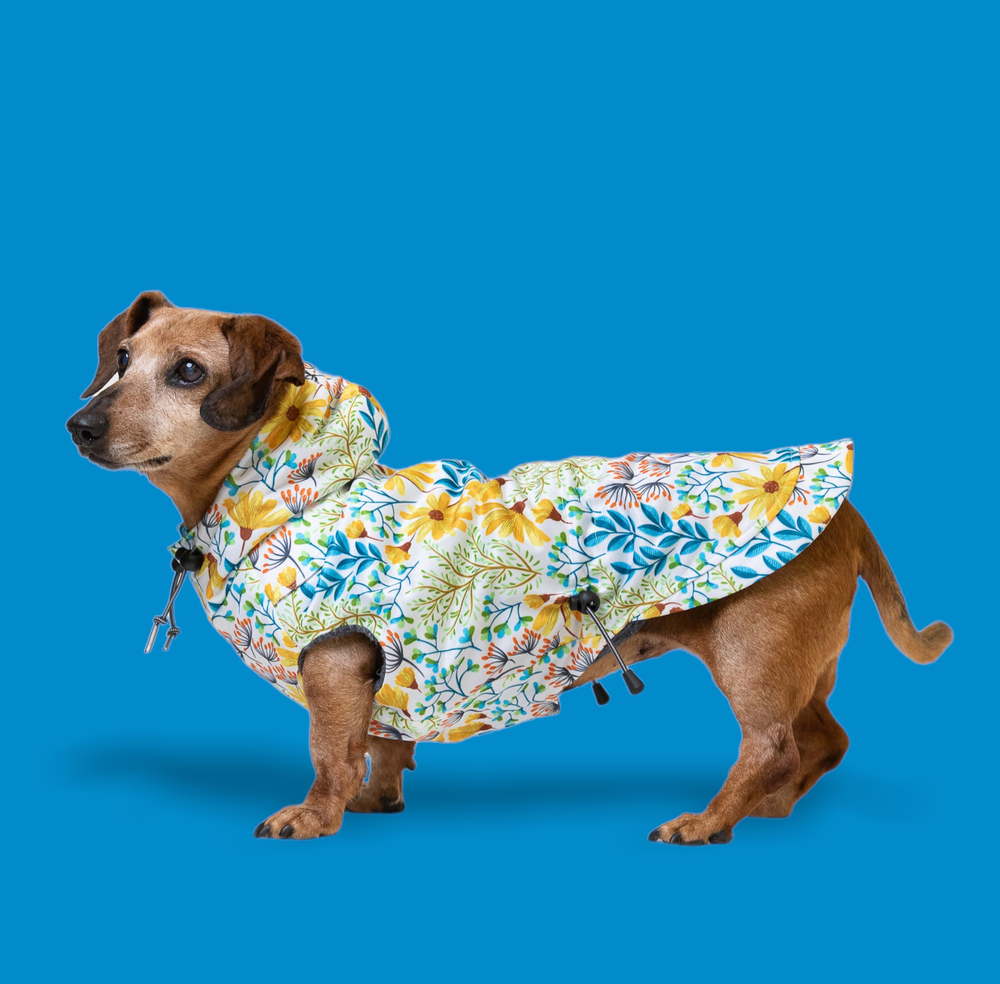 Long Dog Clothing Company Raincoat
✅ 100% waterproof with a soft fleece layer
✅ Tailored for long breeds like corgis
✅ Features Velcro closure and adjustable waist cord
Check Price on Long Dog Clothing
The Long Dog Clothing Company raincoat offers both style and function for corgis, featuring a floral daisy print and a 100% waterproof shell. It's designed with a soft fleece layer for warmth, an extended hood with adjustable cords, and a Velcro chest closure for easy fitting. This raincoat, rated 8/10 for warmth, is tailored for corgis with longer backs for better coverage and an upgraded leash hole flap for durability. While medium usually fits, it's best to measure your corgi for an ideal fit.
#3 Canada Pooch Torrential Tracker Raincoat
✅ Stylish and water-resistant
✅ Reflective trims for visibility
✅ Full belly coverage and functional pockets
Check Price on Canada Pooch
The Torrential Tracker Raincoat by Canada Pooch is an iconic raincoat with a stylish twist that offers water-resistant protection for your dog. It has reflective trims for visibility and night time walks, functional pockets, full belly coverage, and sleeves for size 8-16.
You can also complete the look with a Torrential Tracker Rain Hat and Waterproof Rain Boots.
The recommended size for Corgis is 20, but taking your own measurements before ordering is always a good idea.
#4 The Sharper Barker Raincoat
✅ Ultra-lightweight and water-repellent nylon
✅ Bamboo stretch lining for comfort
✅ Jogger style, suitable for long dog breeds
Check Price on The Sharper Barker
The Sharper Barker Raincoat is a jogger style raincoat that is also really popular for long dog breeds. It's ultra-lightweight, packable and made of water-repellent nylon with bamboo stretch lining.
Key Features to Look for in a Corgi Raincoat
Oh boy, finding the perfect raincoat for your corgi can be quite the challenge. With their unique body shape and long backs, it can be tough to find a raincoat that actually covers all the important parts. But fear not, my fellow corgi lovers, because there are key features you can look for to ensure your furry friend stays dry and happy during those rainy days.
#1 Belly Coverage
First and foremost, make sure the raincoat has decent belly coverage. As mentioned before, many raincoats only have a strap under the belly, which is great for longer-legged pups but not so much for corgis. Look for a raincoat that extends down the belly and provides adequate coverage to keep your corgi's tummy dry.
#2 Designed with Corgis in mind
Next, make sure the raincoat is designed with corgis in mind. This means looking for a raincoat that has a longer body to accommodate your corgi's unique shape. Don't settle for a raincoat that is too short or doesn't fit properly, as it won't be effective in keeping your pup dry.
#3 Quality of the material
Another important feature to look for is the quality of the material. A good raincoat should be made of a waterproof material that can withstand heavy rain and keep your corgi dry. Look for raincoats made of durable and breathable materials that won't cause your pup to overheat or become uncomfortable.
#4 Easy to put on and take off
Lastly, make sure the raincoat is easy to put on and take off. Corgis can be quite stubborn when it comes to getting dressed, so a raincoat that is easy to put on and take off will save you time and frustration.
Overall, when searching for a raincoat for your corgi, look for one with good belly coverage, a longer body design, high-quality material, and easy-to-use features.
With these key features, your corgi will be ready to go the distance even on the rainiest days. Speaking of distance, have you ever wondered just how far your corgi can go on a walk? Check out our article on "How Far Can Corgis Walk?" to find out!